Featured Researcher Bio - Nidhi Rawat June 2022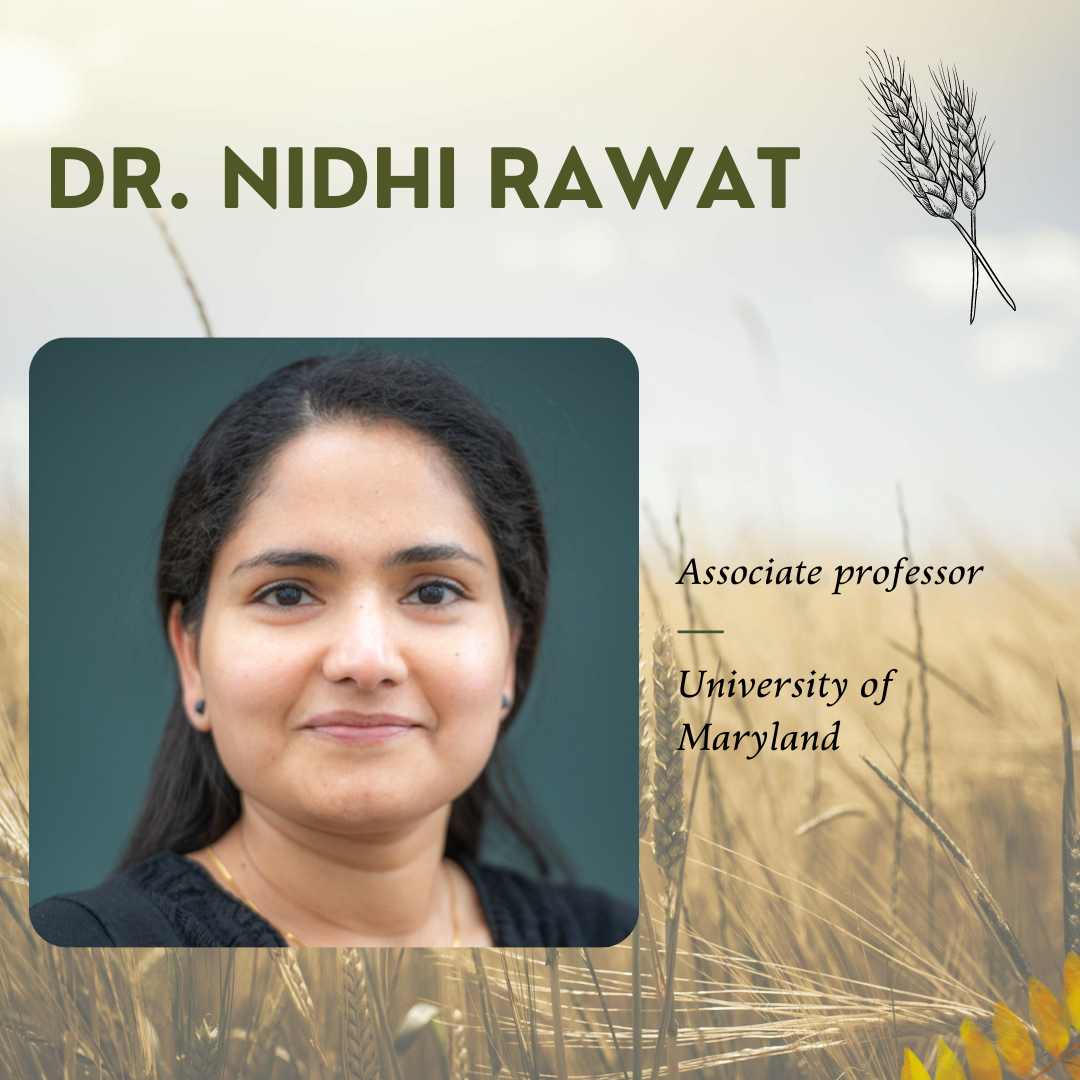 Meet Nidhi Rawat, Ph.D., an associate professor at the University of Maryland. As an assistant professor, Dr. Rawat joined the Department of Plant Science and Landscape Architecture in 2016. She was recently promoted to associate professor in 2022. She has been a USWBSI-funded PI for six years but has been associated with USWBSI for a decade. Her projects focus on identifying genes that provide resistance to FHB in wheat, evaluating the performance of local barley varieties in inoculated FHB nurseries, and conducting integrated management trials in soft red winter wheat and barley.
Initial Inspiration
Dr. Rawat was born and raised in India. She has loved plants from the beginning. Her affection for plants arose from observing the plants growing in her father's kitchen garden. However, Dr. Rawat was drawn to wheat due to it being one of the most important plants to humankind. Because of her love for plants, she pursued her Master's degree in Botany. After completing her M.S. degree, she studied genetic biofortification of wheat and earned her Ph.D. from the Indian Institute of Technology, in Roorkee, India in 2009. After graduation, she joined Dr. Bikram Gill's lab at Kansas State University. While at KSU, Dr. Rawat worked on genetic resistance to FHB. The complexity of Fusarium head blight fascinated her, and she has continued to work on the disease since joining the University of Maryland as a plant pathologist.
Fighting FHB
Dr. Rawat's favorite part of being a USWBSI researcher is the collaborations. She loves that the USWBSI brings together dedicated researchers from different specializations to fight a "common enemy - FHB." Because FHB is a major problem for growers and consumers, she likes the platform the USWBSI provides to develop solutions that can be directly or indirectly applied to a grower's field. In addition, she is fond of the annual National Fusarium Head Blight Forums, which provide a chance for everyone to see the wide spectrum of research the USWBSI is conducting.
To date, her biggest accomplishment related to Scab research is cloning PFT from 'Sumai 3' as the Fhb1 resistance QTL. She is currently working to determine this atypical resistance gene's mechanism of action. Dr. Rawat is also very proud of her efforts to identify host susceptibility factors, which can be used in developing resistant varieties, as well as her FHB integrated management project.
Words of Wisdom
Dr. Rawat's advice to graduate students and early career professionals in her field is to always keep an open mind to new ideas and concepts and stay up to date on the most current research through broad and deep reading.
If you are interested in learning more about Dr. Nidhi Rawat you can view her faculty profile and reach her via email.
You can also check out the series of previous USWBSI Featured Researcher's.