FHB Disease Impact Updates

2022 Conditions and Proactive Growers Reduce FHB Impact Across the U.S.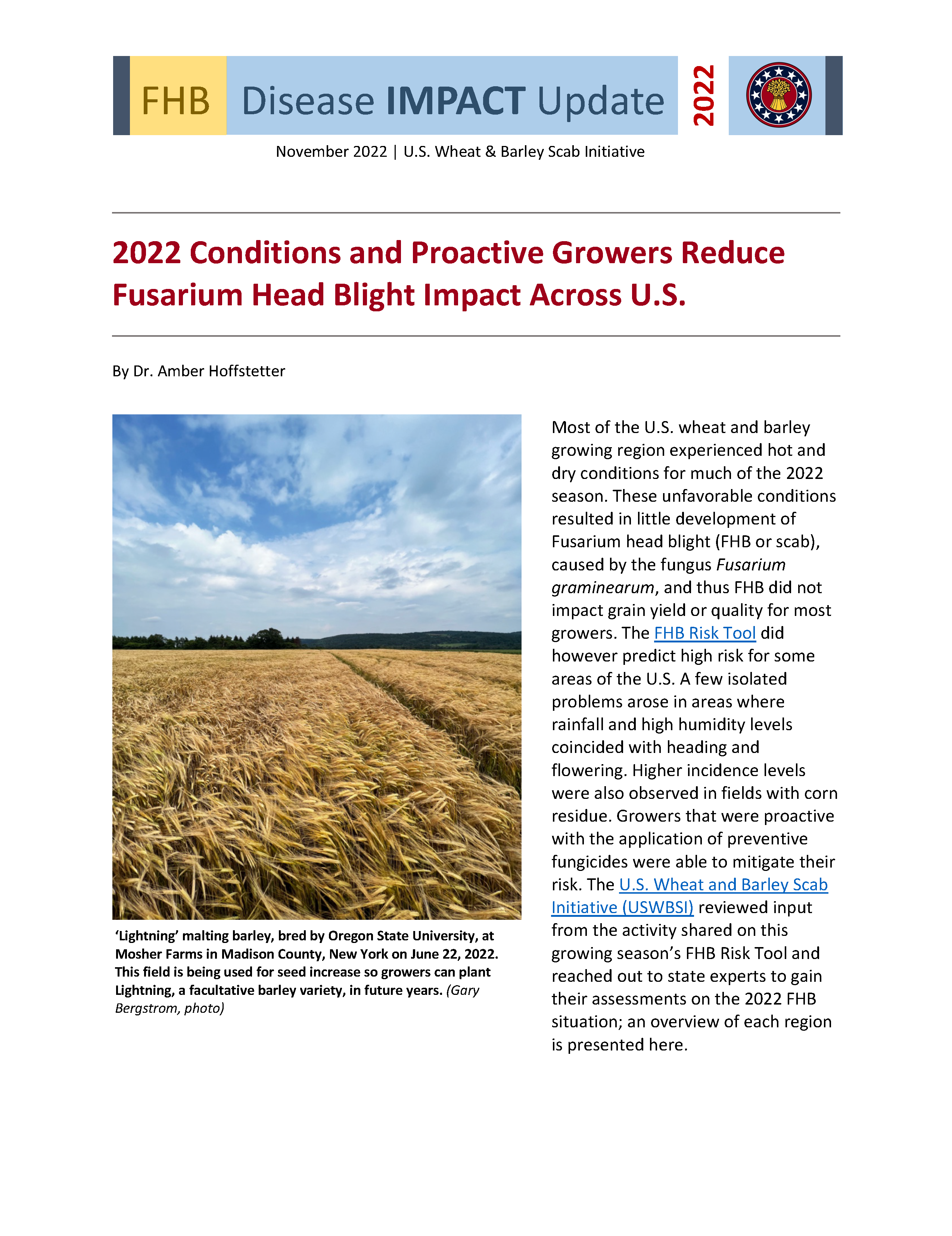 The U.S. Wheat and Barley Scab Initiative (USWBSI) is pleased to announce the publishing of its 2022 Fusarium Head Blight Disease Impact Update. This year commentary from 31 state specialists indicated most growers dealt with hot and dry conditions which were unfavorable for the development of Fusarium head blight (FHB, also known as scab). Thus, FHB did not impact grain yield and quality for most growers. A few isolated problems were found in areas where rainfall and high humidity levels coincided with heading and flowering. But in most cases, growers that were proactive with fungicide applications were able to mitigate their risk.
Archived FHB Disease Summaries
Fusarium Head Blight in 2021:  Drought Conditions Minimize Impact
Fusarium Head Blight in 2020:  Minimal to Modest Impact in Most States
Fusarium Head Blight in 2019:  Serious Impact in Several States; Minimal to Moderate in Others
Fusarium Head Blight in 2018:  Serious in Some States; Low Impact in Majority
Fusarium Head Blight in 2017:  Generally, Not a Significant Impact
Fusarium Head Blight in 2016:  Scab's Impact Low in Majority of U.S. Wheat & Barley Areas
Fusarium Head Blight in 2015:  A Vexing Year, Overall
Fusarium Head Blight in 2014:  From Nonexistent to Severe
Fusarium Head Blight in 2013:  From Benign to Serious
Fusarium Head Blight in 2012:  A Minimal Issue
Fusarium Head Blight in 2011:  An Overview
Fusarium Head Blight in 2010:  An Overview