Featured Researcher Bio - Elizabeth Brauer 2023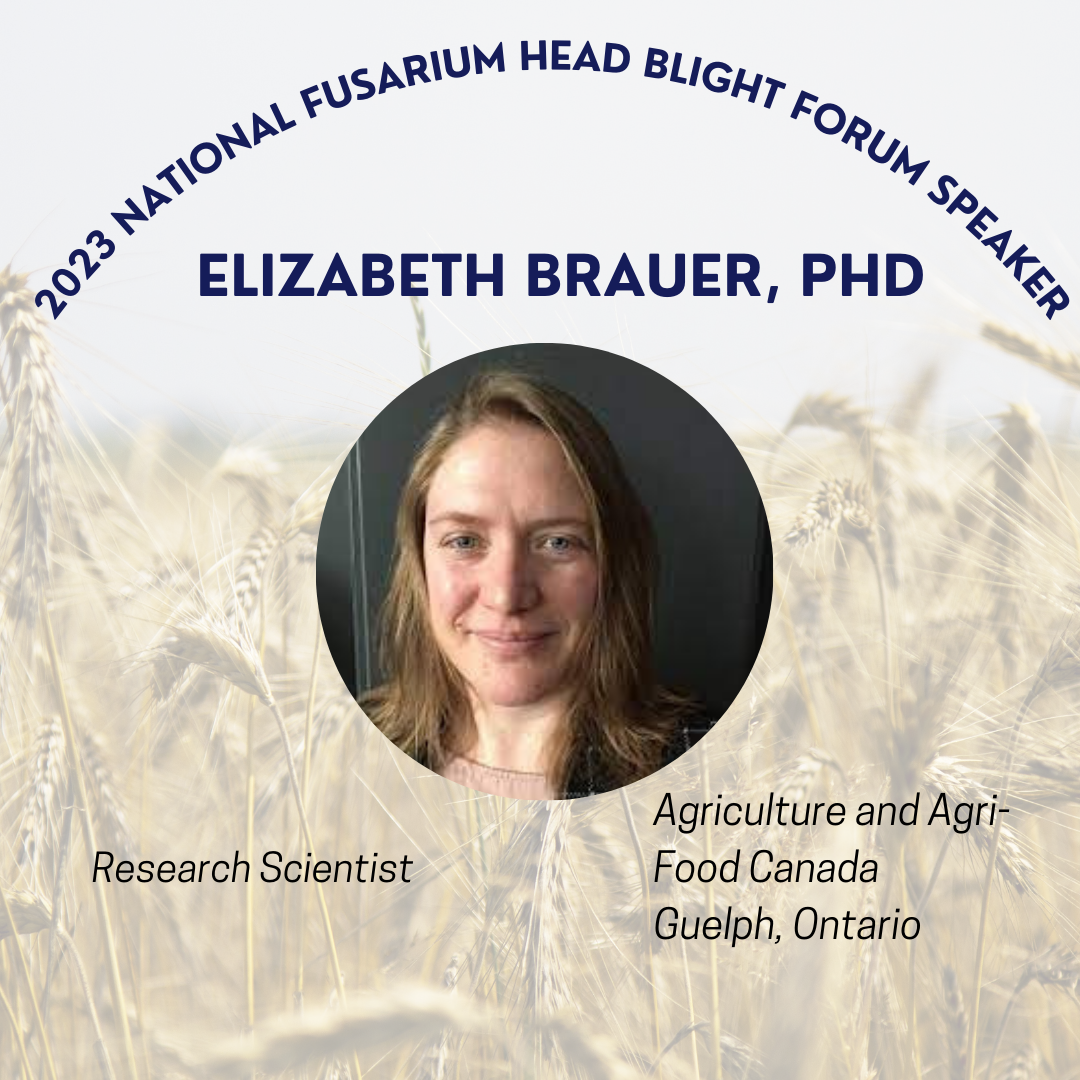 Meet Elizabeth Brauer, a research scientist with Agriculture and Agri-Food Canada (AAFC) and an adjust professor at the University of Ottawa. Her lab focuses on developing disease resistance and quality trait improvement using genomic and phenomics methodologies in wheat, maize, and barley. Brauer was invited by the Gene Discovery and Engineering Resistance Forum Organizing Committee Representatives to present on interactions between plants and mycotoxins at the upcoming National Fusarium Head Blight Forum in Cincinnati, Ohio.
Research Offers Glimpses into the World of Plants
Brauer grew up in Guelph, Ontario. Her interest in plants came from her family. Her grandmother was raised on a farm in Congress, Saskatchewan and her grandfather bred roses in a greenhouse in Calgary, Alberta. Both sets of Brauer's grandparents appreciated gardening and therefore, she grew up appreciating plants as well. Her parents had a vegetable garden every year. When she was 16, Brauer took over as the 'head gardener' and made many mistakes on her quest to produce good quality produce.
This laid the groundwork for Brauer's interest in plants. Attending the University of Guelph for her B.S. in plant agriculture, she was hooked by the world of plant science due to an introduction to plant biology course taught by Dr. John Greenwood. All the things she learned in that course helped explain everything she saw in the garden through trial and error. While there, she also received basic training in research from Dr. Barry Shelp, and for that she is very grateful to him.
Brauer went on to complete her M.S. in plant agriculture at the University of Guelph and her Ph.D. from Cornell University in plant-microbe interactions conducting her dissertation research at the Boyce Thompson Institute. She joined Agriculture and Agri-Food Canada in 2015 as a postdoctoral fellow before becoming a full-time research scientist in 2019. Her government position focuses on issues relevant to the Canadian grain industry and producers. In addition, she is also an adjunct professor at the University of Ottawa where she teaches a course on plant immunity. Here she acquires research funding and conducts projects, publishes papers, and trains students.
Her favorite thing about her job(s) is connecting the ideas to real life. "There's so much about nature that we don't understand and doing research gives you a small glimpse into the biological processes that are at play all around us," says Brauer. She finds her work particularly interesting because it allows one to develop solutions for crop diseases that can impact everyone from farmers to tax-payers who ultimately pay for the cost of testing grain quality through purchasing food. Brauer adds "It's great to work in agriculture because, it connects the biological discoveries to food and the national and international markets."
Mycotoxins Can Induce Call-and-Response Defense Mechanisms
During her presentation at the 2023 National Fusarium Head Blight Forum in Cincinnati, Ohio on Sunday, December 3, 2023 at 3:40 p.m. EST, Brauer will present her work on plant and mycotoxin interactions and how one mycotoxin, gramillin, influences infection. Hear all about how gramillin releases nutrients from the plant cell during the call-and-response between the plant and Fusarium spp. when you join us for "Plant Physiology and Disease Resistance to Improve Cereal Crop Production."
To learn more about Dr. Brauer's research, visit her lab webpage. For more information about Agriculture and Agri-Food Canada, visit their website.
You can also check out the series of previous USWBSI Featured Researchers.